Dear Brothers & Sisters, Assalaamu Alaikum
Last Friday morning, 3/13/2020, we announced that the Islamic Center of Irving will not be hosting Jumu'ah, the regular prayer services or any other events.
We want to emphasize that the center is on lock down status – which means, except for certain essential employees and security personnel, worshippers will not be allowed into the premises until further notice.
This information is subject to change, and updates will be sent as needed.
Let us seek forgiveness from Allah SWT and seek His assistance during these difficult times, Ameen.
ICI Scholars and Shura Council
Additional Recommendations from ICI Physicians Panel: COVID-19 is spreading very fast in US. We need to take maximum possible precautions to keep ICI and the larger community members safe. The main goal is to make sure COVID-19 doesn't find its way amongst us.
Measures below will be effective immediately:
* Given the fact that almost all cases are related to travel, either inside US or internationally, we request you to 🛑 STOP any and all traveling.
* Musalleen or any of their household members who may have contact with COVID 19 patient should not come to ICI until they test negative for COVID-19 or self-quarantine for 14 days.
* Community members who travelled out of DFW are required to see their doctor once they return and ask to get tested for COVID19.
* Anyone with flu like symptoms or fever and cough should not come to ICI and should go see their primary care physician.
* Strictly follow all normal hygiene precautions like hand washing and covering mouth and nose when coughing or sneezing.
* Avoid going to events with large crowds.
* Parents are asked not to take their children to any grocery stores, shopping malls & any public gatherings until further notice.
* Please also avoid visiting hospitals, Nursing home and rehab places to see sick relatives or friends
* Please use mask if you're sick or next to a sick individual.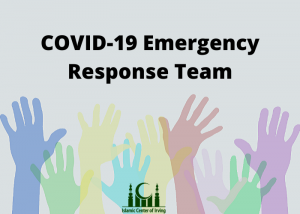 COVID-19 Emergency Response Team
ICI has formed an Emergency Response Team to assist our community in whatever way we can.
We are also reviewing the possibility of starting Tele-Health through our Free Medical Clinic, Insha Allah.
To apply for financial assistance click on this link. Also, you may contact any of the individuals below for assistance:
• Hassan Hye: 214 492 3111
• Kamal Hassan: 214-779-1500
• Malik Hayat: 972 822 8028
• Nordean: 214 404 7596
• Malik Khizar: 214 704 7279
• Abdul Khabeer: 630-561-5462
• Badees Nouiouat 469-570-1774
We are also looking for individual volunteers to assist especially people who can provide rides, buy groceries or otherwise run an errand. Please call one of the numbers above to volunteer.